© North East Essex Tractor & Engine Club 2012 - 2021
Enter Here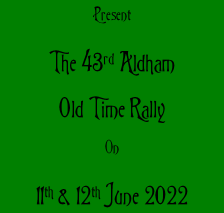 It is with great regret that the 43rd Aldham Old Time Rally has been postponed until 2022. It has become increasing clear that the timings of Government's roadmap to post-covid normality just weren't going to work for our normal rally weekend and to move the show to later in the season would clash with other events.
The Rally Chairman says: " Firstly, I would like to say I hope all our exhibitors, visitors and anyone that supports the show are all safe and well in these unprecedented times. It has been a very difficult decision by the committee to cancel Aldham Old Time Rally 2021. We had been hoping for better news that we could go ahead, but with the situation much the same as 12 months ago we feel it is the right thing to do. We need to keep everyone safe so we can all hopefully enjoy a better show in 2022.
Our thoughts are with anyone that we have lost over the last year that will not be with us again but will be in our thoughts every year.
For this year we must all stay safe, keep getting those exhibits ready for next year and keep bringing happiness to those that visit the show.
Looking forward to Aldham Old Time Rally Saturday 11th and Sunday 12th June 2022....Save the date!
Best wishes to you all, stay safe
Roger Attmere, Rally Chairman "